Friday, January 30th, 2009
This Easter the Doctor Who special "Planet of the Dead" will introduce a new monster the BBC hopes to be as iconic as the Daleks. The Tritovore are described as "half-man half-fly" creatures according to the Daily Mirror.
"They are disgusting and will last long in the memory," and were designed in the hope of becoming as iconic Doctor Who monsters as the Daleks or the Cybermen.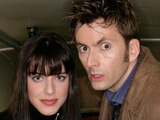 The Doctor will face the Tritovore alongside new companion Lady Christina de Souza, who is played by Michelle Ryan of "Bionic Woman" and "Eastenders".  It has been rumored that Ryan's character will not just appear in the special, but may become the ongoing companion in future specials or series five in 2010. Read full The Tritovore – the New Doctor Who Monsters in the Easter Special Hoped to Rival the Daleks... (247 words, 1 image, estimated 59 secs reading time)