The TARDIS Databanks first began around 1988 as a BBS in upstate New York.
Back then, there was no real public access to the internet (and/or its precursors). So those of us who actually owned computers with modems (which was relatively rare back then) would connect to a BBS, or Bulletin Board System, when we wanted to go "online."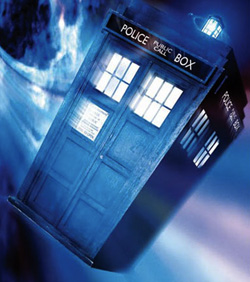 A BBS was basically a home computer with a dialup modem and special software that let it answer the phone when it rang, so people could connect one at a time (unless the sysop had a big budget and could afford two or more modems, which were both slow and expensive at the time).
The visitor could read and post messages on the discussion boards, and download files stored on the BBS host computer. In most cases, the messages stayed on that specific BBS, since few were on a larger network.
The Databanks let other Doctor Who fans, mostly from the area around Ithaca, NY log in and discuss Doctor Who. I also had a selection of pictures and sound files people could download.
Back in the day, the TARDIS Databanks ran on an 8mhz (yes, eight whole megahertz) with a whopping 640K of RAM, a 20 *megabyte* hard drive, and a 2400 baud modem. These days, my cell phone far outclasses that old PC. And, in fact, my phone has several of the very same sound files I still have from the old BBS, loaded on it as mp3 ringtones.
The TARDIS Databanks BBS ran for about a year, before I had to shut it down in September of 1989 after I graduated from high school and moved out of my parents home. I always wanted to bring it back, but at the time it was far too expensive for me to keep paying for my own phone, and the dorm where I was living didn't allow students to have their own phone lines in the room.
In January of 1996, Paul McGann was announced as the eighth Doctor to play in the Doctor Who telemovie which aired Tuesday May 14, 1996 on Fox. This was the first official Doctor Who to be produced since 1989, and the first made in the US, under joint control between Universal Television and the BBC, a project headed by Philip Segal.
After the news of the Fox movie was first announced, I got motivated to "regenerate" my old BBS and it went online on Saturday January 13th, 1996, with a single page and a couple of pictures. Over time, I added to the site and it grew to over thirty pages, along with many images, sound files, and even a few video clips (not so easy back in the mid '90s),
Unfortunately, Fox passed on the opportunity to make new Doctor Who episodes, and so the TV series went back into limbo. Fortunately, the 8th Doctor continued his adventures in both the BBC Book novel line, as well as the Big Finish 8th Doctor audio adventures.
I continued to update the site, more and more sporadically, until the beginning of 2000, when I made my last update. The site continued to get traffic (in fact, for many years it consistently got the most traffic on every server it's lived on, something my former boss used to complain about when it was hosted on the company server). Because it still got some attention, and for old times' sake, I kept it available for people to enjoy.
In 2005, nine years after the Fox TV movie, and sixteen years after the end of the original series, Doctor Who finally returned to the air in a new series starring Christopher Eccleston as the 9th Doctor. The new series lives up to the name of the original, and is a fantastic reinvention and continuation for the 21st century.
Finally, in March of 2006, I decided to take some time to go through the site and at least fix the broken html and dead links, as the site had become a little embarassing. I didn't end up doing that much with the site since I started a new business and it rapidly began to consume most of my time.
However, in late 2008 I began to go through the site and fix some of the broken HTML and other problems, added a blog to post news articles. As of early 2009 I am now squeezing time out of my very busy schedule to gradually go through and revamp the entire site, and plan to update it more regularly with new content.
I hope you enjoy this Doctor Who's fan's labor of love.
This page was originally created on Saturday, January 13, 1996
---