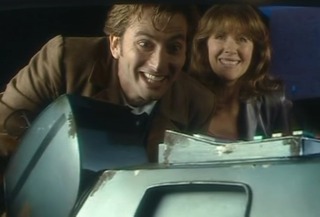 The BBC Press Office is has announced that David Tennant will be appearing in two episodes of the upcoming series of The Sarah Jane Adventures.
In an interview (see video below), departing Doctor Who producer Russel T. Davies described it as "not just a cameo appearance. It's not just like he turns up at the end in the TARDIS… It's a proper story where the Doctor gets involved… he meets Sarah Jane's gang, the stakes are really high and… it's like a treat for those who are missing Doctor Who on the screen."
The Doctor and the TARDIS will appear in episodes 5 and 6 of the series, a two-part story.
It has been previously reported that K9 would be taking on a much bigger role in the upcoming Sarah Jane stories; it's not clear if he will also be appearing in these episodes alongside the Doctor, although obviously it would be very cool if he did.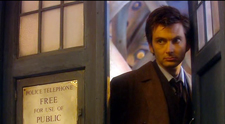 I suspect these two episodes might end up really feeling just like classic Doctor Who episodes more than anything we've seen since the original show went off the air.
Considering SJA's half hour format and the way that the show normally has multi-part stories with cliffhangers, just like the classic Doctor Who series, having the Doctor involved will cement the "Whoishness" of the show.
Personally, I can't wait.
Tags: David Tennant to appear in The Sarah Jane Adventures, russell t davies david tennant appearing on sarah jane