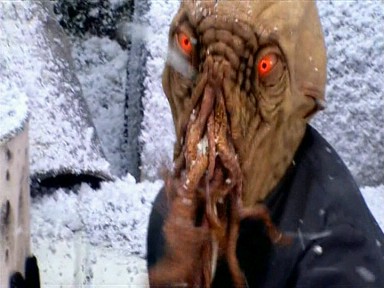 It seems that an Ood was spotted during filming of what is presumed to be the second of the 2009 Doctor Who specials, starring David Tennant as the Doctor and guest starring Lindsay Duncan as his companion.
Filming is currently going in Newport, Wales; earlier in the week filming took place in a quarry, an old standby of the classic series.
During the filming at the quarry, David Tennant was seen wearing an orange spacesuit much like the one he wore in the series 2 two-parter The Impossible Planet/The Satan Pit, which introduced the characters of the Ood.
Based on the Ood and the spacesuit, it's reasonable to assume the story features a visit to the same general time period of these stories and of Planet of the Ood.
Series veteran director Graeme Harper will be directing the story.