Doctor Who Wins Best Program For Second Time
Date posted: August 24, 2008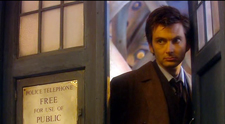 Doctor Who has been awarded Best Program for the second year running at The Edinburgh TV festival's annual awards, confirming what Who fans worldwide knew anyway — Doctor Who is the best show on TV.
BBC One, where Doctor Who airs in the UK, also won best terrestrial channel of the year. Like Doctor Who in its category, this is BBC One's second win in a row.
All of the winners at the festival were chosen by a panel of television executives, as well as journalists.
Guess there's a lot of Doctor Who fans in the panel.
Tags: doctor who wins best program, doctor who wins best programme, doctor who wins second year in a row