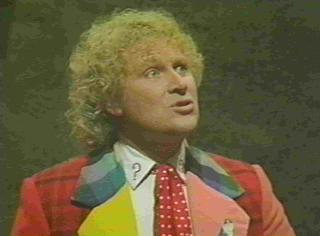 Sixth Doctor Colin Baker made a joke in his column for This Is Local London about how young new Doctor Matt Smith is, saying:
"As if David Tennant hadn't already proved the visibly beneficial power of time travel on the genes, the imminent new one, Matt Smith, we are told, is so young that he is likely to be asked for ID if he tries to purchase an intergalactic gargle blaster in licensed premises either side of the Atlantic."
Baker of course was referring to a Pan Galactic Gargle Blaster, the lethally potent drink invented by Zaphod Beeblebrox in The Hitchhiker's Guide to the Galaxy (the effect of which is described by author Douglas Adams as "like having your brain smashed out by a slice of lemon wrapped around a large gold brick").
Colin Baker recently returned from the latest Gallifrey One Doctor Who convention in Los Angeles (which I was planning to attend this year, but I unfortunately had to cancel my trip at the last minute), about which he said "It is heartening that they are still prepared to tolerate the old fogies who used to portray the nation's favourite Time Lord in the age of the new improved programme and the ever youthening Doctor."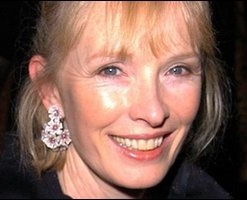 Of course, this trend towards a younger Doctor is in interesting contrast to the recent casting announcement of British Tony Award winning actress Lindsay Duncan (pictured right), who has appeared in the HBO series Rome, as well as more recently in the TV movie Thatcher, playing the prime minister.
At fifty-eight years old, this would make her more than twice the age of 11th Doctor Matt Smith.
Of course, I don't mean to imply that there's anything wrong with casting an older companion. In fact, Catherine Tate was already a bit older than most companions in the past, and I thought she was brilliant as Donna, admittedly after a somewhat dubious start in The Runaway Bride.
And in a number of the Big Finish audio adventures, Colin Baker stars alongside Maggie Stables, who plays Evelyn Smythe, an older woman with a heart condition which she kept concealed from the Doctor in fear he would return her to her own time. I haven't heard all of their stories together, but I enjoyed her a lot as the companion.
It's not yet known who the ongoing companion will be for Matt Smith, but it's likely the production staff is trying out Duncan as well as the previously announced Michelle Ryan (from the recent Bionic Woman remake) to see who works best as a companion with the option of casting them as the regular companion next year.
As usual, time will tell.