The Doctor  Doctor Who Monsters  The TARDIS  Doctor Who Fans
First Doctor  Second Doctor  Third Doctor  Fourth Doctor  Fifth Doctor  Sixth Doctor  Seventh Doctor  
Eighth Doctor  Ninth Doctor  Tenth Doctor
Doctor Who News & Articles Blog
The Radio Times announcement of the first episode:
---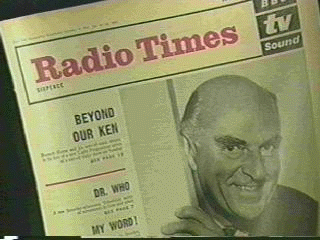 This page was created on Friday, March 1, 1996
---
Back to the TARDIS Databanks
All opinions are my own.
Doctor Who and TARDIS are copyright BBC.
The Daleks are copyright The BBC and Terry Nation.
All other properties, images, etc. are copyright their respective copyright holders.
I intend no copyright infringement. Please show your support for Doctor Who by paying for it.