David Tennant to Undergo Back Surgery; May Delay New Doctor Who
Date posted: December 10, 2008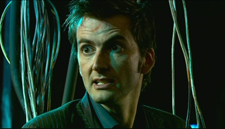 According to the Royal Shakespeare Company, David Tennant will be undergoing back surgery for a slipped disc.
Tennant has been experiencing back problems for some time, and has recently been unable to perform in the most recent productions of Hamlet, where he has played the title role some 60 times.
Now it seems he will not be returning to the role at all, since he was already scheduled to finish his run in the production on January 10th, and it seems unlikely he would be able to do so so quickly after surgery.
Tennant said the following in a statement about the situation: "My back problem has progressed to the point where it is currently impossible for me to carry on without surgery."
"I want to get back onstage as quickly as possible and I am very grateful to [understudy Edward Bennett] who has courageously got to grips with the role but in a much shorter time. It's a fantastic achievement."
It is not known whether this will affect the production schedule of the 2009 Doctor Who specials, but a delay seems likely since filming is supposed to begin in January.
Let's wish David both a speedy and painless (as possible) recovery from his surgery.